Neolink End of Year Supply Chain Update
Friday 21st of October 2022
Dear Valued Clients,
I hope you are all well and 2022 has been better than the past couple of years.
Before we get into the update, I want to say a big thank you to you all for your continued support not just the past 12 months, but also for some over the past five years as we have grown the Neolink business – thank you again!
In this End of Year Supply Chain Update we will be covering off the below:
Global Freight Rate and Manufacturing Update
Sea Freight Sailing Reliability and Delay Updates to AU/NZ
EOY and Chinese New Year Planning
New ETA/ETD Email Notifications on Neolink Logixboard
Global Freight Rate and Manufacturing Update
As most of you are aware, Freight rates globally have been dropping since the beginning of January and have more progressively been heading towards the $1,500 per 20 / $3,000 per 40 mark on the FBX Index for the FAK Spot market.
See below:
https://fbx.freightos.com/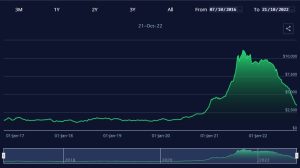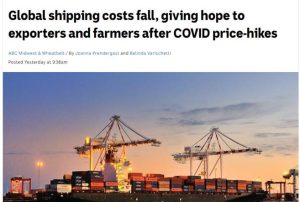 Despite the drop in freight rates, we are still significantly above where the market was pre-covid and the AUD taking a hit on the USD has found it hard to slow the impact on inflation across a number of industry sectors. As all of our existing and new customers are aware, Neolink FAK rates move with the market across all trade lanes and most of you will be seeing your rates dropping on new quotations every week, as well as invoices on current shipments. Please be aware however that if you do have invoices hitting your inbox now that this is based on freight rates at the time of departure and in a lot of instances depending on the port of loading, rates could have moved significantly since that time. If you have any questions on current market pricing, please contact your Customer Operations Coordinator or relevant Business Development Manager.
Also please note that Neolink holds USD and EUR accounts and are able to generate invoices in these currencies to assist with everyone's FX hedging strategies.
Freight rates have been dropping mainly due to a couple of key reasons globally: firstly, being the increase in more vessels and services hitting the market as container volumes soften globally – please see below:

The second key driver has been the softening in container demand as global manufacturing has fell for the first time since August 2020 according to the global manufacturing PMI and which in turn is being driven by inflation globally: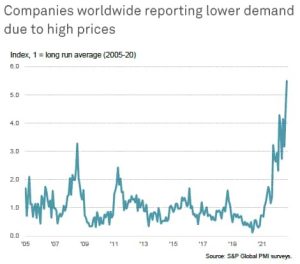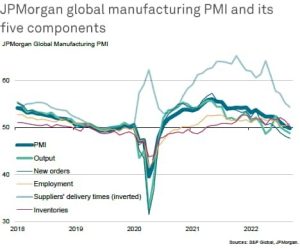 The million-dollar question for everyone is at what point will demand hold and where will freight rates finish as we see central banks around the world continue to increase interest rates. What is masking a lot of the freight rate movements at the moment will be end of year planning for a lot of importers and exporters as we head into the Christmas period, which everyone is forecasting will be "softer" than previous years.
Sea Freight Sailing Reliability and Delay Updates to AU/NZ
Since the beginning of this year, we have steadily seen carrier performance and global schedule reliability slowly improve up to just under 50% as we see the market start to somewhat normalise. That being said this does still mean that over 50% of sailing schedules are not on time and in addition to that we are still seeing vessels arrive with delays of still 6 days during transit times alone – although this has also improved since the beginning of the year. This is without considering any of the delays on berthing at the terminals and in still quite a few instances we are seeing vessels taking longer to move through ports, or still rotating at the last minute which can blow out ETA's out by up to two weeks in some instances from Asian ports.
Neolink have contracts at origin and destination with all of the major shipping lines – our priority is to always ensure our customers have a range of different options whether it be paying a premium/direct service or cheaper/longer transit options.
All in all, we are seeing all of the major shipping lines improving in their schedule reliability, albeit still significantly behind pre covid times.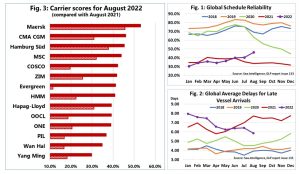 With regards to New Zealand the issue is much more challenging due to a number of key reasons. In June of this year two workers died on the ports in April due to a workplace accident and this has resulted in heightened safety regulations impacting port productivity. In addition, we are seeing that shipping lines as a result are running extremely behind schedule with delays into NZ due to the congestion and this is the worst it has been since the COVID Pandemic began – please see below P44 delay update: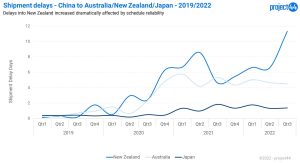 End of Year & Chinese New Year Planning
Despite all of the above lingering market challenges that occur across all aspect of the supply chain; we still do have things that we can control.
One of those things is the Order Management Process and how we pre-plan/coordinate the supply chain proactively with your overseas suppliers that can help us in reducing the risk/navigating the market conditions with your shipments.
Recently we completed a full analysis across the past three years across 10,000 + shipments and this is what we learned:
Customers that share their factory purchase order data (EDI, excel csv or even basic email)l 4+ weeks ahead of ready date have the best performing supply chains
More of our customers are sharing their data earlier with us and are planning a lot further in advance than previously – 29% provided data 4+ weeks in advance (up from 12% pre covid)
We still have 53% of our customers providing us with orders with less than 10 days' notice of being ready – these orders have a higher risk of delay and rolling than pre planned shipments
Based on China to AU alone customers that provide 4+ weeks' notice has cargo arrive 5.2 days earlier than the industry average transit time CN to AU
All of the above gives us more time to plan with your factories and allow our origin offices more time to book space typically on quicker/direct services that are in higher demand when earlier notice is provided. For all of our customers that still do not have Christmas orders into our system, I ask that you please reach out to us and share them with our team, in addition our team are proactively reaching out to our customers everyday about your orders anyway. If anything, urgent does come in, please highlight this to the relevant team member for us to assist over the Christmas period as our team will be working excluding the public holidays.
Although it seems some time away; Chinese New Year is falling in 2023 on Sunday January 2022 and will be starting the year of the rabbit commencing traditionally 16 days of celebrations lasting until the Lantern Festival on February 5th, 2023. As office closure periods etc are announced we will certainly be updating you and making you aware, we understand some of your suppliers might be closing production earlier or later so please keep us in the loop.
Despite the market improving, we are still experiencing delays at terminals and transit times, so please keep this in mind for CNY to avoid delays ideally, we would like to have cargo ready by the end of the first week of January to ensure we do our best to risk mitigate delays/challenges with shipping.
Your respective Business Development Manager, Customer Operations Team or one of our GM's will be speaking to you in the coming weeks regarding CNY for all of those respective clients.
New ETA/ETD Email Notifications on Neolink Logixboard
To those customers of ours that do not currently use Neolink Logixboard I strongly advise that you sign up and find out more from your Customer Operations or BDM. The platform is free of charge to all of our customers and has some amazing functionality to not only track your shipments, but see live vessel GPS data, plan your factory orders and have your accounts team find all of the relevant shipment documentation – for general info please feel free to find more info on our site:  https://neolink.au/neolink-logixboard/
More and more functionality is coming to this platform – so please feel free to provide feedback as this allows us to provide feedback to the R&D Team that are constantly looking to improve its features and functionality.
NEW this month to Neolink LogixBoard is Automated Email Notifications for planned ETA/ETD changes on your shipments.
In order to enable the notifications please follow the below instructions
Settings —> Notifications
The new notifications we add will be turned off by default.
To receive these email notifications:
Navigate to Settings, then click on Notifications
Tick the box next to the notifications you want to subscribe to.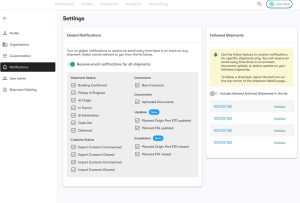 Being transparent is extremely important for everything that we do here at Neolink and providing access to all of this information is critical to ensuring our customers can act according to the most up to date information possible. That being said, please be aware that in a lot of instances you will be finding out via automated updates based on shipping line data – some of the time we may be aware of a delay before the shipping line and update you accordingly or alternatively may occur without any notification at all from the shipping line. In the event this does occur your Customer Operations contact will endeavour to find out more information and ascertain cause, impact, and provide you with more detail as quickly as we possibly can.
Once again, thank you to everyone for your support to date and if you have any questions, please feel free to reach out to your relevant Neolink contact.
Best regards,
Neolink Marketing Team
Do you import containers to Australia? Get Ready for BMSB Stink Bug Season 2022 to 2023
Monday 15th of August 2022
Dear Valued Clients,
Its that time of year again…..
BMSB Season 2022 to 2023 will be commencing from the 1st of September 2022 to 30th of April 2023.
With regards to the timelines, this is based on goods that were shipped on vessels on/between those dates, and to vessels that berth, load, or tranship from a target risk country.
Please note:  The shipped-on board date, as indicated on the Ocean Bill of lading, is the date used to determine when goods have been shipped. "Gate in" dates and times will not be accepted to determine when goods are shipped.
Essentially during BMSB Season the Department of Agriculture requires importers that import goods that are deemed high risk and from a high-risk country to be treated. There are a number of variables involved in what we can and cannot treat onshore here in Australia upon arrival, as well as what treatments/facilities we can treat offshore.
Given those variables it is really important that if you import from a target risk country to check with us if you are importing anything new or are arranging shipments on a CFR/CIF basis that we are not made aware of to provide our recommendations.
I have attached to this email the summary of what is currently as of today on the Departments website – please be aware that this can change at anytime and is important to also check the live links below:
https://www.agriculture.gov.au/biosecurity-trade/import/before/brown-marmorated-stink-bugs#see-secure-report
https://www.agriculture.gov.au/biosecurity-trade/import/before/brown-marmorated-stink-bugs/offshore-bmsb-treatment-providers-scheme
I have also provided below a breakdown of What is new? from last year as of today:
What's New?
From 1 August 2022
Emerging risk countries - China and UK only
Chapters 94 and 95 will be subject to random inspections for emerging risk countries
(Chapter 94 – Furniture; bedding, mattresses, mattress supports, cushions and similar stuffed furnishings; luminaires and lighting fittings, not elsewhere specified or included; illuminated signs, illuminated name-plates and the like; prefabricated buildings)
(Chapter 95 – Toys, games and sports requisites ;parts and accessories thereof.
120 hours policy been amended for goods that have been rolled (with evidence)
Inspect (unpack) Inspections instead of Secure Seals intact inspections at Approved Arrangements
If your goods are classed as target high risk, they will require mandatory treatment.
If your goods are classed as target risk, they will be subject to random inspection.
If your goods are not found in either category, they are not subject to BMSB measures, however, will be subject to the measures if packed with target high risk or risk goods.
Break bulk includes those goods shipped on flat racks and in open top containers.
All target high risk goods shipped as break bulk must be treated offshore prior to arrival into Australia.
Untreated break bulk will be directed for export.
If you have any questions at all on BMSB Season, please feel free to contact your Customer Operations Coordinator or alternatively our Customs Manager, Halim on the below:
Halim Tjion
Customs Manager
+61478005886
halimt@neolink.au
Best regards,
Neolink Marketing Team
Seasonal Measures for Brown Mamorated Stink Bug (BMSB) - Department of Agricultural, Fisheries & Forestry - August 2022
Neolink Joins World Wine Cargo Alliance - Press Release - 18.7.22
Monday 18th of July 2022
Neolink are today excited to announce that we have joined the World Wine Cargo Alliance effective from July 2022.
The World Wine Cargo Alliance was created by CEO Montserrat Nomen Brotons in the beginning of 2019. The idea behind this Global freight network is to gather reliable partners and agents around the world that  specialize in the transport of wine and other spirits.
Neolink are proud to join the exclusive alliance, since there is a limit on the number of memberships per country. The reason for these limitations is that World Wine Cargo Alliance to be an active network in which all members can benefit from cooperation to ensure the highest standards are maintained for the Global Logistics requirements required for the Wine industry.
Neolink's General Manager of Commercial Matt Cirson has over 15+ years experience working in the Global Wine Logistics industry and has been developing our Global Wine Reefer FAK Service to Australia the past two and a half years. "Joining such an exclusive network as the World Wine Cargo Alliance is another step in the right direction as we grow our Global Logistics Offering to the Wine Industry here in Australia" he stated.
"Over the past two and a half years our Global Wine Reefer FAK service to Australia has grown significantly to now whereby we are running monthly services to Australia, which we know very few other companies can offer. This temp controlled service is important as it still allows smaller wine importers to bring in more premium wines in smaller batches and trial/test new products initially before being able to justify shipping Full Container Loads."
In the coming months the Neolink Commercial and Operations Teams that work in our Wine Industry vertical will be working closely with the WWCA members to seek additional benefits that we can pass onto our current and future customers.
If you would like more information please contact info@neolink.au
Best regards,
Neolink Marketing Team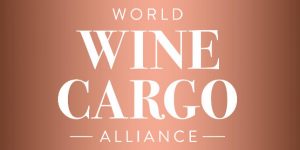 Free Trade Agreement Announcements with Australia – India, UAE & GCC Countries – 4.4.22
Monday 4th of April 2022
Dear Valued Clients,
Hope you all had tremendous weekends.
Some of you may have seen in the news over the weekend that Australia and India have signed an intent to close on a Free Trade Agreement.
Under the deal, exports to India are expected to be boosted by at least $45B by 2035 and Australia will open a work/holiday maker program. India is forecasted to become the most populous country in the world within the next two years and under the trade deal, tariffs will be eliminated on entry for "rare earth elements" that will surely delivery a boost for mining exports in the coming years.
At this stage we are still not aware on any of the timings of when these benefits will come into place and what that will also mean for Australian importers at this point in time. Using our China-Australia Free Trade Agreement as a benchmark, the agreement was signed in 2015 and took almost up to 2 years for certain commodities to have duties/tariffs eliminated with certain documentation for customs purposes in both China and Australia. We certainly hope both Australian importers and exporters alike that this will come into effect earlier than those timelines, although it could be staggered over time depending on the goods you or your business are trading.
It is certainly welcome news in addition to the announcements in recent weeks that were made on the Australia-UAE and Australia-GCC Trade agreements – please see details attached.
If you have any questions related to the trade agreements, please feel free to reach out to our Customs department directly on customs@neolink.au for more information.
Best regards,
Neolink Marketing Team
NEOLINK Announcement – Shenzhen sent into weeklong lockdown due to rising COVID cases – 14.3.22
Monday 14th of March 2022
Dear Valued Clients,
As some of you may be aware China has placed close to 20 million residents in Shenzhen into lockdown for at least a week due to rising COVID cases.
All bus and subway systems have been shut down except for those that are providing "essential services" – employees have been told to work from home if they can.
Residents in the area have been barred from leaving Shenzhen, which will have nock on implications for inter provincial transport providers and will have a broader impact across the supply chain.
At this stage it is very early, but we do not have a clear picture of what will transpire at the Ports in Shenzhen (Yantian & Shekou), but inevitably we are anticipating further delays to not just cargo in these ports but for any vessels heading southbound from Northern/Central China.
The Local Government website in Shanghai is also announcing that cases are spreading across the province as well and may prompt a further lockdown in that region also.
Please see below articles of reference to share with your customers:
We strongly advise that all importers that have trade with China from the region communicate with their suppliers to understand the impact on their current operations, as well as the impact on any order dates.
NEOLINK will be communicating on a shipment-by-shipment basis to our customers as well and our team both in China, as well as here locally will be proactively engaging with your suppliers as well.
We will continue to keep you updated.
Best regards,
NEOLINK Marketing Team
GPS Vessel Tracking Now Live on your NEOLINK shipments! – 4.3.22
Friday 4th of March 2022
Dear Valued Clients,
GPS Vessel Tracking is here! This is the first in a series of enhancements coming to the NEOLINK Logixboard Platform to provide the most accurate, up-to-date shipment information on your Sea Freight Shipments.
Please see below: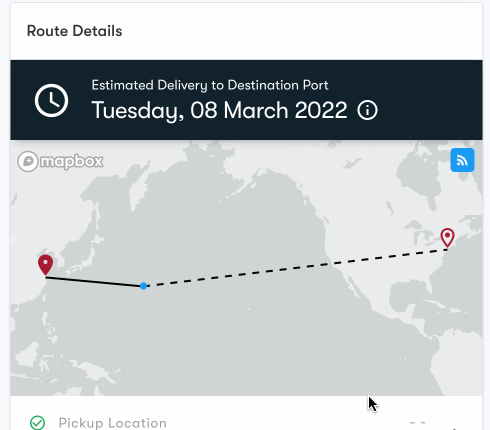 On the platform you will be able to now click on the live vessel information which will provide you with the last reported position of the vessel. As most of you know the ETA's we are provided by the shipping line is one data set that since the outset of COVID has not been accurate as it was pre-covid – however this additional inclusion will provide our clients and our Customer Operations Team with a clear/concise source of information that will enable us to all be talking the same "shipping" language.
The vessel data will only appear on your shipment once the goods are confirmed on board and the vessel and departed – so all pre-shipment planning information will be within the Order Manager section of the platform which will remain the same.
At NEOLINK, we are incredibly excited to now be able to offer our Australian customers an industry first where you can find all these consolidated data sets in one place.
For customers that don't yet have access to NEOLINK Logixboard; I strongly recommend giving it a trial as it is at no extra cost and something we provided free of charge.
If you have any questions, please don't hesitate to reach out to your Business Development Manager or Customer Operations contact for more information.
Best regards,
NEOLINK Marketing Team
NEOLINK Announcement – Port of Brisbane Flood Update – 28.2.22
Monday 28th of February 2022
Dear Valued Clients,
Hope all is well, and you are having a good start to the week.
For all our customers, suppliers and their families based in Queensland and Northern NSW, we hope you stay safe during this challenging time.
Please find attached to this email an update from the Port of Brisbane's Chief Financial Officer regarding current operations due to the floods.
In summary:
Currently, the Regional Harbour Master (RHM) has declared no movements in and out of the Port. However, this is being reviewed on a case-by-case basis in the first instance
PBPL will begin surveying critical navigational areas, including the channel, swing basins and berth pockets, as soon as it is safe to do so this morning (under the direction of the RHM)
PBPL is also working with the RHM on a plan to remove debris in and around waterside infrastructure
There is an element of minor/superficial damage on a number of port roads, across all precincts
PBPL's Infrastructure Team is assessing damage this morning
It's understood there are no access limitations on port roads at the moment
There are no rail movements in and out of the BMT due to broader rail network issues, however the BMT itself remains operational.
As most of you know; the port data we access is the most up to date and ready information we have on hand for berthing timings, as well as first free day – we will continue operate as best as we can using the most up to date info on hand.
We anticipate this will cause quite significant disruption to planned vessel berthing's and your NEOLINK Customer Operations Coordinator will be monitoring the port of Brisbane terminal data closely in the coming days.
If you are concerned about any shipment, please feel free to contact any member of the team and they will be proactively reaching out in the coming day/s when changes occur.
Best regards,
NEOLINK Marketing Team
PORT OF BRISBANE – FLOODS UPDATES – 28.2.22
Reasons and Benefits to arranging Cargo Insurance – 28.2.22
Monday 28th of February 2022
Dear Valued Clients,
Over the past several weeks there have been several industry events highlighting the importance of checking/updating your cargo insurance:
Vessel – Felicity Ace – Containership Fire damages nearly 4,000 vehicles onboard – 25/2/22 – Click link here
Vessel – Marcos V – Container collapse with 26 X 40ft Containers lost overboard – 21/2/22 – Click link here
Vessel – Zim Kingston – Containers start to wash ashore after 109 containers lost in October – 23/2/22 – Click Link Here
Given the current set of circumstances occurring in Europe over the current Ukraine crisis; it is critical you speak with your insurer or your NEOLINK Customer Operations Coordinator to understand your coverage.
Listed below are some vital reasons why importers and exporters should arrange cargo insurance on all your goods:
As an Importer/Exporter you may be responsible for all loss and damage during the entire voyage, even before delivery, e.g. under FOB Incoterms an importer is responsible from the time the goods are loaded aboard the vessel.
Where there is a cargo loss, the Importer/Exporter in most instances will be claiming against the shipping line or air carrier, which can be very time consuming and…….
Air and Sea Carriers can limit their liability under international conventions. For example, Hague Visby Rules provide a limit of: the greater between 2 Special Drawing Rights (SDR's) per kilo of the cargo or 666.67SDR/package. As of February 2021, 1 SDR=AUD1.85 and freight forwarders across the industry carry the same terms/conditions around liability.
Cargo insurers will generally provide prompt and full payment for damaged/lost goods where an insured event has occurred and are not concerned with liability issues in relation to other parties.
In the event something incurs outside of an importers/exporters control, cargo insurance can generally cover you for all of the liabilities or additional costs incurred – example NEOLINK Customer Case Study below:
CASE STUDY – UK FOOD IMPORT ON BOARD EVER GIVEN – SUEZ CANAL BLOCKAGE
On the 23rd of March 2021 the Ever Given blocked the Suez Canal for 6 days with 20,000 TEU containers onboard, which was being leased to and managed by Evergreen Marin shipping.
Due to the blockade the Suez Canal Authority (SCA) estimated there was more than $900M USD in compensation required due to the blockage and seized by the court on the 13th of April 2021. SCA cut their claims down to $600M USD after the rejection of the previous claim by the ships owners and insurers was rejected, eventually settling for an undisclosed sum on the 7th of July 2021 and departing on the 12th of July for Rotterdam after a delay of more than 100 days.
Evergreen shipping passed/attempted to pass on all of the additional costs/compensation to their customers equally across the 20,000 TEU's of which a number did not have insurance or refused to ultimately pay abandoning the goods to the shipping line. On board this vessel was 10 containers for one of NEOLINK's customers that was fortunate enough to have cargo/marine insurance that covered for all costs incurred and after a 100 day delay received their goods for no additional cost except for standard charges due to their coverage and paying the excess on their insurance.
So what options do you have for arranging Cargo insurance?
NEOLINK can arrange 1 off insurance quotes on a per shipment basis and can vary in price depending on the goods/coverage with our insurance providers.
Speak with your own insurance provider about including Cargo/Marine Insurance in your overarching business insurance policy – in 99% of instances this is the most cost-effective way of arranging cargo insurance. NEOLINK RECOMMENDATION
If you are looking for an insurance provider that specialises in Marine/Insurance cargo to speak to directly about setting up your own policy, please let us know and we would be happy to recommend or refer you on.
If you have any questions relating to Cargo insurance, please speak directly with any of the NEOLINK team.
Best regards,
NEOLINK Marketing Team
Purchase Orders for 2022 & Online Tracking Portal – 22.12.21
Wednesday 22nd of December 2021
Dear Valued Clients,
As we head into 2022; I think we can all agree that proactively engaging in the supply chain earlier for shipping has helped us best manage the risks of shipping in 2021.
Whilst it is not full proof and there are always challenges at origin, during transit, as well as here upon arrival – the results between those clients that do engage vs clients that provide orders reactively is dramatically different.
I strong advise we continue to be as proactive as well all can as we head into 2022 with the recent COVID outbreaks and Chinese New Year just around the corner.
So, what can you do to plan for 2022?
From the moment you Draft Purchase Order please CC us so our teams both locally and at origin be proactive
Feel free to also share if you have planned proactively your Q1 Forecasts
If you do not have access; please get set up with NEOLINK LogixBoard Online Portal via your NEOLINK representative (this now includes an Order Management component that covers the pre shipping process)
Continue to forecast your Landed Unit Costs for Q1 with current market rates – we do not see any sign of rates dropping and with Chinese New Year around the corner, NEOLINK forecast this could even increase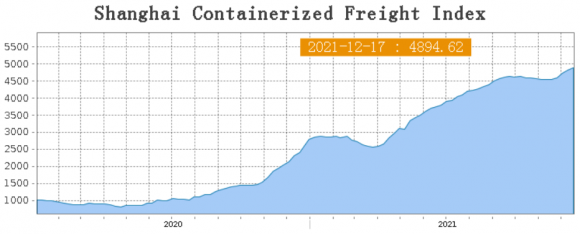 Any orders placed that we are not aware of, please send onto us ASAP.
Chinese New Year is also very much around the corner (1/2/22) – we anticipate that factory workers will start to go on leave from the week commencing the 24th of January and will return the 2nd to 3rd week of February. Needless to say with the current delays to ensure goods get away before CNY we want to have containers packed the first week of January, anything after that we highly recommend you consider airfreight to ensure urgent goods with tight RIS (Required In Store) dates are met.
If you have any questions regarding Planning for 2022 or the Online Portal Access, please don't hesitate to reach out to any member of the team.
Best regards,
NEOLINK Marketing Team
NEOLINK Announcement – COVID 19 Outbreak in Zhejiang Province Adds Further Disruption to Ningbo Port – 20.12.21
Monday 20th of December 2021
Dear Valued Clients,
Most of you will be aware that over the past two weeks COVID outbreaks have been emerging in Zhejiang province.
During this time, we have had multiple factories/suppliers of our customers have outbreaks and close down, as well as some in Zhenhai be impacted from a lockdown at the beginning of December.
The impact of these outbreak has been felt throughout the supply chain:
Factories – shutting down or production slowing down (most EXW dates have been delayed by weeks in our system)
Trucking – some companies/drivers are refusing to enter certain districts due to tough quarantine measurements/requirements being imposed on drivers.
Port Operations – Ningbo's port operations have also tightened restrictions on only allowing certain drivers from certain regions that have outbreaks – similarly this is also applied to workers at the terminals
Shipping lines – As of five days ago; Loadstar and MarineTraffic sited 30 vessels were anchored and waiting to enter Ningbo Port, as of this morning at 11:34AM that number appears to have increased significantly in the past week (please see below)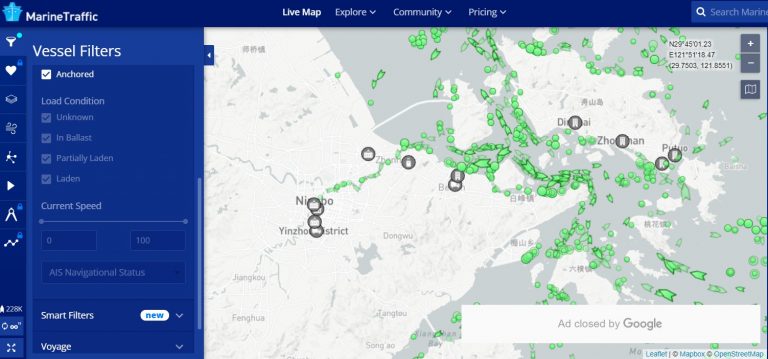 The biggest issue we foresee in the coming weeks is another bottleneck appearing similar to what happened earlier on in the year that impacted all of China's ports. We anticipate that over the course of the next week if the build-up occurs that shipping lines will start omitting the port entirely and as such will add further problems as we head into Chinese New Year.
Our team both here in Australia and in China are engaging continuously with the shipping lines to do our best to pre-empt any omissions, however these are typically made on the fly by the vessel captains which take time to report back. I also ask during this time you understand that our team do not get "official notices" from the shipping lines straight away when this occurs. We will always push for the official notices to assist with your customer communication, but we have noticed this can sometimes take weeks not days to receive.
If you have suppliers in the Zhejiang province with pending orders we are not aware of, I strongly advise you send over to our team as soon as possible, and we will work closely with you in the coming weeks to try to find a solution that suits your supply chain.
All of our team are working extremely hard going into Christmas/New Year with us only taking leave on public holidays to ensure we keep your supply chains moving. If you have concerns about existing or pending orders, please reach out to your NEOLINK Customer Operations contact and we will do everything we can to assist.
SOURCES:
Best regards,
NEOLINK Marketing Team